North East Digital Village
Museums: Connecticut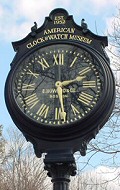 American Clock & Watch Museum

(cite: clockmuseum.org)
100 Maple Street, Bristol, CT 06010, (860) 583-6070
Hours: Seven days a week 10 AM to 5 PM March 24 to November 30, 2007. (Closed Easter and Thanksgiving).
Open in the winter by chance or by appointment.
Over 1,400 clocks and watches on display. Discover the finest collection of American manufactured clocks and watches on public display and many foreign ones. Treat your ears as well as your eyes with their ticking, striking and chiming. The museum and its research library are located in the colonial style Miles Lewis house, the historic Ebenezer Barnes wing and the modern Edward Ingraham wing. An authentic early American sundial garden with period flowers and herbs adds seasonal beauty to the grounds. Adults and children alike enjoy the character watches, such as Mickey Mouse, Porky Pig, Buck Rogers, and clocks such as ET, Bugs Bunny and Felix the Cat. Whatever your fancy, there is sure to be a clock or watch that will tickle it!

Ballard Institute and Museum of Puppetry
(cite: bimp.uconn.edu)
School of Fine Arts, Depot Campus, 6 Bourn Place, U-5212 Storrs, CT 06269-5212, (860) 486-4605, bimp@uconn.edu
Hours: Fridays, Saturdays & Sundays from Noon to 5 pm. Special group tours and workshops by appointment.
State Museum of Puppetry for Connecticut. Located on the UConn Depot Campus in Storrs, the Museum preserves and exhibits puppets from around the world as well as those created at the University of Connecticut. BIMP also provides research and educational opportunities to all who share the love of puppetry.
Brayton Grist Mill
Route 44, Pomfret, CT 06258, 860-928-0304
(At the entrance of Mashamoquet State Park)
Open: Memorial Day to Labor Day, Sundays 2-5 p.m.
One-man mill operation of the 1890's has original milling equipment. Tool exhibit represents the craft of three generations of blacksmiths.
Maintained by the Pomfret Historical Society.
Chaplin Museum
1 Chaplin Street, Chaplin, CT 06235, (860) 455-9209 Hours: Sunday 1-4 PM Second Sunday in July-last Sunday in September.
One room museum featuring iems depicting 18th and 19th century family life, special annual exhibit.

Children's Museum of Southeastern Connecticut
(cite: childrensmuseumsect.org)
409 Main Street, Niantic, CT 06357
(860) 691-1111, E-mail: cmsect@aol.com
Interactive, hands-on, museum - engage in activites in the Arts, Sciences, Safety & Health, and Culture & History. Don't miss Nursery Rhyme Land for toddlers and Kidsville, an entire kids-size town where young imaginations soar. Discovery Room and outdoor Garden delight scientists ages 6 and up. Would-be builders create wonders in the CAN-STRUCT building exhibit. Arts & crafts, a pipe organ, Benthic Submarine Exhibit, and many exhibits that change regularly!
Open: Tuesday-Saturday: 9:30 a.m.-4:30 p.m., Fridays until 8 p.m. Sunday: 12 noon-4 p.m. Seven days per week from Memorial Day to Labor Day. Mondays during school vacations, e.g. Columbus Day, Martin Luther King Jr. Day, President's Day, etc.
Closed: Easter, Memorial Day, July 4, Labor Day, Thanksgiving, and Christmas. (Hours are subject to change slightly by season)

Children's Museum
(cite: thechildrensmuseumct.org)
(Formerly the Science Center of Connecticut)
950 Trout Brook Drive, West Hartford, CT 06119, 860-231-2824, thechildrensmuseumct.org
Igniting Curiosity through science and nature. Discover the wonders of science and nature through unique, hands-on permanent and traveling exhibits at Conneticut's largest children's museum.
Featured traveling exhibits this year:
Color Play: The Art & Science of Color & Light – Jan. 13 – June 17, 2007; Team Up – June 30, 2007 – Jan. 1. 2008.
Among permanent attractions: United Technologies Wildlife Sanctuary with live, exotic animals from around the world, astronomy shows in the Gengras Planetarium, World Weather Window TV studio, KIDS Corner, IdeaZone, Conny the Whale, Foucault Pendulum, Explore Store and more! Also special programs and events.
Open: Tuesday – Saturday, 10 AM to 5 PM, Sunday Noon to 5 PM, Mon. 10 AM to 5 PM during school holidays and vacation weeks. Complete information on Admission and Hours.

Connecticut Antique Machinery Association
(cite: ctamachinery.com)
U.S. Route 7, Kent, CT 06557, 860-927-0050
Open: May through October, Wednesday-Sunday, 10 a.m.-4 p.m.
Preserving, restoring and demonstrating antique machinery from our rich industrial and agricultural past. Live steam and operating deisel locomotives, stationary steam engines, diverse collection of tractors including gasoline, dual fuel, and steam powered contrivences dating back to the late 1800's, and a large collection of farm-related implements. Extensive collection of large internal combustion engines with engines spanning the early years of internal combustion from the time when this mode of power was replacing steam as the power source of choice. Small gasoline engines, road rollers, both steam and internal combustion. Cranes, shovels and backhoes. Road graders and pile drivers. Well drilling and bulldozing.
Explore the History of Connecticut's Rich Mining Heritage at the Connecticut Museum of Mining & Mineral Science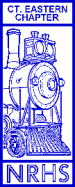 Connecticut Eastern Railroad Museum
(CT Eastern Chapter of the National Railway Historical Society)
(cite: cteastrrmuseum.org)
The Connecticut Eastern Railroad Museum, P.O. Box 665, Willimantic, CT 06226-0665
860-456-9999, info@cteastrrmuseum.org
Located off Bridge Street in downtown Willimantic, Connecticut, on the original site of the Columbia Junction Freight Yard. Collection includes locomotives and rolling stock, as well as vintage railroad buildings and a six-stall roundhouse reconstructed on the original foundation. Visitors can receive a guided tour of the museum and kids of all ages can operate a replica 1850's-style pump car along a section of rail that once was part of the New Haven Railroad's "Air Line".
Connecticut State Museum of Natural History
(cite: mnh.uconn.edu)


University of Connecticut, Connecticut State Museum of Natural History, Connecticut Archaeology Center, 2019 Hillside Rd., Unit 1023, Storrs, CT 06269-1023
860-486-4460 Fax: 860-486-0827
Natural history collections are a library of physical and biological data that scientists and scholars use to better understand our world. The Museum of Natural History and Connecticut Archaeology Center are home to the University of Connecticut's Anthropological Collections and represents the single largest repository of Connecticut Native American, colonial and industrial artifacts in existence. The materials housed here document over 11,000 years of Connecticut's past.
Admission is free; donations are appreciated.
Hours: Monday through Friday, 9 am—4 pm and Sunday, 1 pm—4 pm.
Special note: While our building is undergoing renovations, there is only a small exhibit area open to the public. If you are visiting campus, expect to spend 30-45 minutes at our displays.
Connecticut River Museum
(cite: ctrivermuseum.org)
Steamboat Dock, 67 Main Street, Essex, CT 06426
(860) 767-8269, crm@ctrivermuseum.org
"Long River Winding" featuring Connecticut River Valley's most unforgettable personalities, ranging from a the spirit of a titled British lady of the 16thcentury from Old Saybrook to a 20th-century children author.

Connecticut Trolley Museum (Connecticut Electric Railway Association, Inc.)
(cite: ct-trolley.org)
RT 140, East Windsor, CT.
Providing a historically accurate educational experience of the trolley era, through the interpretation, preservation, restoration and operation of an electric railway. A three mile round trip streetcar ride with an educational narrative is provided to the museum's visitors during their visit. The collection consists of passenger and freight street cars, interurban cars, elevated railway cars, service cars, locomotives, passenger and freight railroad cars, and a variety of other rail equipment. All major buildings and the Museum's center of operations are located on a 17-acre facility adjacent to State Route 140 in East Windsor - about one mile East of Exit 45 off I-91. The right of way is a 3.2-mile portion of the original Rockville branch of the Hartford and Springfield Street Railway Company.

Danbury Railway Museum
(cite: danbury.org/drm/)
120 White Street, Danbury, CT 06810, 203-778-8337, danbury.org/drm/
Experience the golden age of railroading at the Danbury Railway Museum. Beautifully restored 1903 station. Learn about the exciting role that railroads played in the development of the country through DRM's vintage collection of locomotives and cars, model train layouts, and interpretive exhibits of rare artifacts and photographs. Take a tour of the six-acre rail yard to see many different types of trains. From steam to diesel, from passenger to freight, the DRM has it all!
Open: November through March, Wednesday - Saturday 10 AM to 4 PM, Sunday 12 AM to 4 PM. Open April through October, Tuesday through Saturday 10 AM to 5 PM. Sun. 12 AM to 5 PM.
Denison Pequotsepos Nature Center, Natural History Museum
(cite: dpnc.org)
109 Pequotsepos Road, P.O. Box 122, Mystic, CT 06355
(860) 536-1216, info@dpnc.org, dpnc.org
Explore the Nature Center's newly renovated indoor natural history exhibits. Woodland, wetland, and meadow displays depict southeastern Connecticut's unique habitats and wildlife, many of which can be found throughout our beautiful sanctuary. Hours: Year Round. Monday through Saturday 9 AM – 5 PM, Sunday 10 AM – 4 PM
Florence Griswold Museum
(cite: flogris.org)
96 Lyme Street, Old Lyme, CT 06371, 860-434-5542
Hours: Tuesday-Saturday, 10 AM-5 PM. Sunday, 1-5 PM.
Closed Mondays, Easter, July 4, Thanksgiving Day, and Christmas Day.
Extensive collections of American art and history, including the recently acquired Hartford Steam Boiler Collection. Changing exhibits.

Golden Age of Trucking Museum
(cite: goldenagetruckmuseum.com)
1101 Southford Road, Middlebury, CT 06762, 203-577-2181, info@goldenagetruckmuseum.com
Year Round Museum Hours: Thursday thru Saturday 10:00am-4:00pm, Sunday 12:00pm-4:00pm.
July & August Summer Museum Hours: Tuesday through Saturday 10-4 Sunday 12-4
Closed New Years Eve & Day, Good Friday, Easter, 4th of July, Thanksgiving and Christmas Eve & Day
Display of Crosley cars and collectibles shown in Memory Lane. "Moving History", a movie about moving the Edaville Railroad from Carver, MA to Portland, ME. Extensive display of antique trucks in the showroom ranging from the early 1900's until 1974. Mack, GMC, Diamond T, Autocar, White, International, Pierce Arrow, Republic, Jeep, Dodge, and others are all represented in the display. Antique boats, trucking memorabilia, photographs, and publications. Hands-on children's area, library, movie, art gallery, gift shop, picnic area. Interactive Interstate for kids has computers, books, puzzles, games, blocks, easels, ride-on toys.
Gov. Trumbull's War Office
(cite: ctssar.org)
149 West Town Street, Lebanon, Connecticut
During the American Revolution, the former store and office where Jonathan Trumbull conducted his mercantile business became the headquarters to plan the defense of the colony of Connecticut. The War Office is listed on the National Register of Historic Places. The Building has been owned and maintained by the Connecticut Society of the Sons of the American Revolution since 1891.
Hours: Open Memorial Day- Labor Day Sat/Sun Noon - 4 PM, by appointment, call 860-873-3399

Imagine Nation Museum
(cite: imaginenation.org)
One Pleasant Street, Bristol, CT 06010, (860) 314-1400, info@imaginenation.org
Hours: Wednesday-Friday 9:30 am-5:00 pm. (First Friday of the month we are open until 8 pm.), Saturday 11:00 am-5:00 pm, Sunday 12:00 pm-5:00 pm.
Directions
Hands-on, interactive children's museum best suited for ages 2 to 10. Programs, classes, workshops, field trips, scout programs, summer and vacation camps and much more.
Worth visiting! Check out their Events Calendar.
Institute for American Indian Studies
(cite: birdstone.org)
38 Curtis Road, PO Box 1260, Washington, CT 06793, 860-868-0518
Hours: Mon-Sat 10am-5pm, Sunday 12pm-5pm. Closed New Year's Day, Easter, Memorial Day, 4th of July, Thanksgiving and Christmas Day.
"As we tell our stories" (main exhbit), expresses important concerns about caring for the earth and living in cooperative societies. Knowledge of clay and corn, enduring connections to land, and the spirits of ancestors are passed from one generation to the next. Outdoor replicated Algonkian Indian Village, longhouse classroom and research library.



The birdstone (IAIS logo) represents the long and continuing presence of this area's original peoples. It reminds us that casual digging and unprofessional excavation can destroy archaeological sites and the information these hold. More than this, the heritage of Native Americans—past and present—is damaged when important pieces in their homelands are looted.
Jillson House Museum
(cite: windhamhistory.org)
627 Main Street, Willimantic, CT 06226 860-456-2316, jillson@windhamhistory.org
Open: Call for hours of operation
The circa 1824 Jillson house, now the home of the Windham Historical Society was built by Perez O. Richmond and Hosea Ballou for the the Jillson family. The structure is made from stone taken locally from the banks of the Willimantic River. Exhibits include artifacts, antique furniture and local memorabilia.

Jonathan Trumbull Jr. House Museum
(cite: lebanontownhall.org/trumbulljuniormuseum.htm)
780 Trumbull Highway (Route 87), Lebanon, Connecticut
Jonathan Trumbull Jr. (1740-1809), son of Connecticut's Revolutionary War Governor, served as General George Washington's secretary during the American Revolution and was later governor of Connecticut from 1797-1809. His elegant home (ca. 1769) with its hand-carved paneling and corner fireplaces is the house where Washington spent the night of March 4, 1781.
Opening hours: Saturday & Sunday, May through October, 12 PM to 4 PM or by appointment.

Lebanon Historical Society Museum
(cite: historyoflebanon.org/)
856 Trumbull Highway, RT 87, PO Box 151, Lebanon, CT 06249
860-642-6579, museum@HistoryofLebanon.org
(On the Historic Lebanon Green just north of the intersections of Routes 87 and 207.)
The collections include artifacts from two of the archaeological digs conducted in Lebanon: Paleo-Indian artifacts recovered from the bed of Williams Pond that may be as old as 8,000 years, and artifacts from the site of the Alden Tavern, which was operated by a woman innkeeper during the Revolutionary period. A growing collection of family histories and genealogies adds to the resources available for researchers. Current exhibitions at the LHS Museum include, "Turning the Soil: The Land and People of Lebanon", "From Home Front to Battlefield: Lebanon in WWII", and "The Huntington Retrospective". Also the Dr. William Beaumont House, and a doctor's examination room of the early 19th century. Dr. William Beaumont was a Medical Researcher who Solved the Mystery of Human Digestion.

Leffingwell House Museum
(cite: leffingwellhousemuseum.org)
c/o The Society of Norwich, Connecticut, Inc., P.O. Box 13, Norwich, CT 06360
Christopher Leffingwell House, Historic Museum is one of the finest restored examples of New England Colonial architecture and home of revolutionary patriot, merchant, and industrialist Christopher Leffingwell. By the mid 18th century what was built as a simple two room house in 1675 had evolved into an elegant home for one of Connecticut's most famous patriots.
The David Greenleaf House is currently being renovated.
Hours of Operation: Open 1-4 PM Saturday, Sunday. Season: April 15th to October 15th or by appointment. (Events)
Lutz Children's Museum
(cite: lutzmuseum.org)
247 South Main Street, Manchester, CT 06040, 860-643-0949, lutzmuseum.org
Not high-tech -- High touch! Dedicated to providing an enriching hands-on learning experience available for children. Exhibits to excite a child's imagination and tantalize their curiosity in a safe, fun, and nurturing environment.
The museum's home is a former schoolhouse. Gallery halls were once classrooms, and the school auditorium is now used for classes, parties, concerts and special events. Hours:Tuesday - Friday 9 AM - 5 PM, Saturday & Sunday Noon - 5 PM
Mashantucket Pequot Museum
(cite: pequotmuseum.org)
110 Pequot Trail, Mashantucket, CT, 800-411-9671
World's largest and most comprehensive Native American museum and research center -- from life-size walk-through dioramas that transport visitors into the past, to changing exhibits and live performances of contemporary arts and cultures. Four full acres of permanents exhibits depict 18,000 years of Native and natural history.
Hours: Open daily 10 am to 4 pm, last admission at 3 pm.
Closed: Thanksgiving Eve, Thanksgiving Day, Christmas Eve and Christmas Day, New Year's Eve and New Year's Day.
DIRECTIONS
Exhibit Galleries: A World of Ice, Arrival of the People, Life in a Cold Climate, The Changing Environment, Changing Lifeways, A Pequot Village, Pequot Daily Life, Arrival of the Europeans, Life on the Reservation I, Life on the Reservation II, Mashantucket Pequots Today
Native Lifeways: Baskets and Mats, Building a Wigwam, Clothing, Transportation, Fishing Tools & Techniques, Hunting Tools & Techniques, Early Agriculture, Harvesting Maize, Making a Meal, Making Ceramics
Society & Culture: Ancient Hunting Communities, A Family Group ca. 1500, The Early Fur Trade, Why the Europeans Came, The Impact of Disease, Aftermath of the Pequot War, Mashantucket Land Grant, Land Loss Begins, Natives and Christianity, Hold on to the Land, A New Generation of Leaders
The Natural World: Glaciers and the Land, Early Mammals of the Northeast, Mystery of the Megafauna, 17-14,000 Years Ago, 14-12,000 Years Ago, 12-10,000 Years Ago, 10-8,000 Years Ago, 8-4,000 Years Ago, 4,000-350 Years Ago, 350 Years Ago-Present, Mashantucket Today
Military Museum of Southern New England
(cite: usmilitarymuseum.org)
125 Park Avenue, Danbury CT 06810, (203) 790-9277, usmilitarymuseum@yahoo.com
Hours: Summer Hours (April 1st though November 30th), Tuesday through Saturday: 10am to 5pm, Sunday: 12pm to 5pm
Winter Hours (December 1st through March 31st), Friday and Saturday: 10am to 5pm, Sunday: 1pm to 5pm
Collection of uniforms, photographs. art work. equipment. and scale models representing all branches of the military and many "home front" organizations and businesses established in the 20th Century to help support the war effort. 5,000 volume reference library of books, technical and field manuals and the largest private collection of heavy armored fighting vehicles and artillery pieces from World Wars I & 11, the Korean and Vietnam Wars and Operation Desert Storm.
The New England Air Museum
(cite: neam.org)
36 Perimeter Rd, Bradley International Airport, Windsor Locks CT 06096
860-623-3305, staff@neam.org
Open 7 days a week, year round, 10AM to 5PM, (Closed on Thanksgiving , Christmas, and New Year's Day)
Admission Prices: Adults (age 12 & up) $8, Children Ages 6-11 $4.50, Children Age 5 & under FREE, Seniors (age 60 & up) $7. Prices subject to change.
The New England Air Museum is dedicated to the teaching and preservation of aviation history and technology especially with regard to Connecticut's contributions. It is a museum where you can:
See the landmark artifacts of aviation which changed history
Learn about the courage and determination of famous men and women who brought aviation to where it is today.
Hear firsthand the stories of veterans who lived the wars of the 20th century and fought to preserve the freedom we now enjoy.
Experience firsthand the principles of flight which have challenged the pioneers of aviation for generations.
Discover the impact our state of Connecticut has had on aviation and space exploration from the earliest balloon launches of 1857 to the design of space suits for the Mission to Mars.

New England Carousel Museum
(cite: thecarouselmuseum.org)
95 Riverside Avenue, Rt. 72, Bristol, Connecticut 06010, (860) 585-5411, info@thecarouselmuseum.org
Open all days except: New Year's Day, Easter Sunday, Memorial Day, Independence Day, Labor Day, Thanksgiving Day, and Christmas Day.
Winter Hours: Open Thursday through Saturday, 10 A.M. to 5 P.M. and Sunday from 12 noon to 5 P.M.
Houses one of the largest collections of antique carousel pieces in the country. You can explore the "Golden Age of the Carousel" on your own, or with tour guides, who will share the colorful history and evolution of the hand-carved animals that have found their place in America's rich folk art history. Exhibits represent the finest pieces of antique carousel art in existence. The Bristol Center for Arts and Culture features three galleries that include fine art exhibits. The Museum of Fire History displays fire department and firehouse memorabilia.
Peabody Museum of Natural History
(cite: peabody.yale.edu)
Yale University, P.O. Box 208118, New Haven, CT 06520-8118, 203.432.3775
Located in the Science Hill section of the Yale campus, at Whitney Avenue and Sachem Street, New Haven, Connecticut.
From Costa Rican gold to saber-toothed cats to the once mighty dinosaurs - you can find it all at the Peabody Museum of Natural History!
Hours: Monday - Saturday 10 AM to 5 PM, Sunday Noon to 5 PM
Prudence Crandall Museum
P. O. Box 58, Junction Routes 14 and 169, Canterbury, CT 06331, 860-546-7800
Open: Wednesday-Sunday, 10 a.m. to 4:30 p.m.; closed December 15-January 31; open February and March by appointment only
New England's first academy for Black women open from 1833 to 1834. Three period rooms, changing exhibits on a variety of themes, and a small research library available by appointment for in-house study. National Historic Landmark. Part of the Connecticut Freedom Trail and the Connecticut Women's Heritage Trail.

Shore Line Trolley Museum
(cite: bera.org)
17 River Street, East Haven, CT 06512, (203) 467-6927
The Shore Line Trolley Museum is the oldest operating trolley museum in the United States. The museum was incorporated in 1945 as the Branford Electric Railway Association, a non-profit historical and educational institution. Founded to preserve the unique heritage of an endangered species -- the trolley car Regular season begins April 1 (Sundays only until end of May). See CALENDAR.
Stay an hour, or stay a day! Fare is good on all streetcars for the entire day. Cars run frequently throughout the day.
The first car of the day departs at 10:30AM. Last car departs at 4:30PM.
The museum grounds are open 1/2 hour prior to the first car and 1/2 hour after the last car.

Stepping Stones Museum for Children
(cite: steppingstonesmuseum.org)
Mathews Park, 303 West Avenue, Norwalk, CT 06850, 203 899 0606
203-899-0606, info@steppingstonesmuseum.org
Inviting children to explore, imagine, create and discover new experiences every time they visit! Exhibits are designed for children ages 1 to 10, encourage hands-on exploration and discovery, incorporating the themes of Science & Technology, The Arts, Culture and Heritage.
Hours: Tuesday 1:00 – 5:00 PM, Wednesday – Sunday 10:00 AM – 5:00 PM
Closed Mondays and Tuesday mornings to work exclusively with Schools.
Closed New Year's Day, Thanksgiving and Christmas.
In the event of inclement weather, please check for delays/closings at 203 899 0606, ext. 353.

USS Nautilus and Submarine Museum
(cite: ussnautilus.org)
1 Crystal Lake Road, Groton CT, 800-343-0079
Local visitors: (860) 694-3174, Toll-free: 1-800-343-0079
Collection of submarine artifacts. It is the only submarine museum operated by the United States Navy, and as such is the primary repository for artifacts, documents and photographs relating to U.S. Submarine Force history. The museum traces the development of the "Silent Service" from David Bushnell's Turtle, used in the Revolutionary War, to the modern Los Angeles, Ohio, Seawolf and Virginia class submarines.

Vintage Radio and Communications Museum of Connecticut
(cite: nationalcommunicationsmuseum.org)
115 Pierson Lane, PO Box 894, Windsor, CT 06095, (860) 673-0518
Preservation of vintage communications equipment and the education of the public about its history. Collections include radios, televisions, telephones, telegraphs, test equipment, jukeboxes, and hi-fi equipment. Research library, collections of historical recordings, records, advertising pieces, tubes and other interesting pieces. Crystal Radio Classes.
Windham Mill & Textile Museum
(cite: millmuseum.org)
411 Main Street, Willimantic, CT 06226, 860-456-2178, millmuseum@gmail.com
History of the people who worked and built mill communities in the Windham region during the industrial revolution. The focus is on the cotton thread mamufacture on the rivers of Eastern Connecticut in the late-19th and early-20th centuries. Preserves two buildings of a mill complex formerly owned by the Willimantic Linen Company (later became the American Thread Company). Interpretive programs examine the work and leisure of mill workers and their ethnic background as well as the staff and managers and their role in the industrial age.