North East Digital Village
Museums: New England
Massachusetts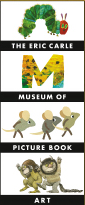 Eric Carle Museum of Picture Book Art
(cite: picturebookart.org)
125 West Bay Road, Amherst, MA 01002
(413) 658-1100, info@picturebookart.org
This museum hopes to inspire us, especially in children and their families, to appreciate and understand the art of the picture book. They aspire to build bridges to an appreciation of art of every kind and to provide an enriching, dynamic, and supportive context for the development of literacy. This mission is delivered by collecting, presenting and celebrating the art of the picture book from around the world and by providing interactive experiences and programs that are engaging and educational. One of Carle's books, The Tiny Seed was selected as a Cheerios Spoonfuls of Stories book in 2006.
Hours: 10 am-4 pm Tuesday through Friday, 10 am-5 pm Saturday, 12-5 pm Sundays
First Fridays @ The Carle: Museum open late until 7 pm the first Friday of every month, featuring special Cafe menu.
Closed on Mondays and Independence Day, Thanksgiving, Christmas Eve, Christmas, and New Year's Day

The Children's Museum in Easton
(cite: childrensmuseumineaston.org)
The Old Fire Station, 9 Sullivan Avenue, P.O. Box 417, North Easton, MA 02356, 508-230-3789, E-mail info@childrensmuseumineaston.org
Hours: Tuesday-Friday 9am-5pm, Saturday and Sunday 12-5pm. Closed most Mondays, call ahead for holidays or school vacation hours.
The Children's Museum in Easton (CME) is an educational, cultural, and social learning center for children and families with a primary focus on children ages 1-8. The museum is located in a historic Old Fire Station in North Easton, MA. Helps children and families become lifelong learners, using hands-on experience as the key to stimulating curiosity and motivating learning. Three floors of interactive exhibits and over 100 programs that allow kids to explore the world around them.
Admission: $9 per person, members and those under 1 are free.
Free parking. Picnic Area. Outdoor Learning Center-The Wild Place.

Peabody Essex Museum
(cite: pem.org)
East India Square, Salem, Massachusetts 01970, 978-745-9500, Toll Free: 866-745-1876.
For the Hearing Impaired: 978-740-3649, Program Reservations: ext. 3011
Hours: Open daily 10 A.M.-5 P.M., Closed Thanksgiving, Christmas, and New Year's Day
America's oldest continuously operating museum. The museum's collections — many ranking among the finest of their kind — exceed 2.4 million works of art and culture. Peabody Essex collections also encompass twenty-four historic buildings, including four National Historic Landmarks, five National Register buildings, and our most recent architecture acquisition, Yin Yu Tang, the only complete Qing Dynasty house located outside China.
Hosts an amazing array of family art classes (many free with museum admission) and multi-day mini camps called the Art Adventure Club; in either, kids might design a nengajo (a Japanese New Year's card), create animal statues, or make a nature journal
New Hampshire
St. Gaudens National Historic Site
(cite: nps.gov/saga/)
139 Saint-Gaudens Road, Cornish, NH 03745, (603) 675-2175
Home, studios and gardens of Augustus Saint-Gaudens (1848-1907), one of America's greatest sculptors.
The exhibit buildings are open daily, 9:00 a.m. to 4:30 p.m., from May 27 through October 31, 2006. From November 1, 2006, through May 25, 2007, only the grounds are open and an entrance fee is not charged. The park will reopen for the season on Saturday, May 26, 2007.

Enfield Shaker Museum
(cite: shakermuseum.org)
447 NH Route 4A, Enfield, NH 03748, (603) 632-4346
Founded in 1793, this village in Enfield NH was the 9th of 18 Shaker communities to be established in this country. At its peak in the mid 19th century, the community was home to three "Families" of Shakers. Here, Brothers, Sisters, and children lived, worked, and worshipped. Here, they practiced equality of the sexes and races, celibacy, pacifism, and communal ownership of property.
Hours: Friday through Saturday 10am-4pm, Sun 12pm-4pm
Vermont

Montshire Museum of Science
(cite: montshire.org)
One Montshire Road, Norwich, VT 05055, 802-649-2200
Hands-on museum located in Norwich, Vermont, offering dozens of exciting exhibits relating to the natural and physical sciences, ecology, and technology. Located on a 110-acre site near the Connecticut River. Science Park is a two-acre exhibit area in a beautiful, park-like setting. Network of easy-to-moderate walking trails for visitors of all ages and fitness levels.
The Montshire Museum is an official visitor center for the Silvio O. Conte National Fish and Wildlife Refuge.
Hours: 10 am to 5 pm. Seven days a week throughout the year except on Thanksgiving Day, Christmas and New Years Day.

Fairbanks Museum & Planetarium
(cite: fairbanksmuseum.org)
1302 Main Street, St. Johnsbury, Vermont 05819, 802.748.2372
Northern New England's premiere museum of natural history. Significant and extensive examples of 19th century agricultural, industrial, and household life. Farm implements, tools of yesteryear, horse-drawn vehicles, household objects, toys and dolls, costumes and textiles, memorabilia, archival photographs, diaries, and records of community history.
Hours: Tuesday - Saturday 9 AM - 5 PM, Sunday 1 - 5 PM, Open Mondays, 9 AM - 5 PM, April - October
Planetarium shows: September through June - Saturdays and Sundays at 1:30 PM, July through August - 11 AM Monday through Friday, and at 1:30 PM everyday
Museum & Planetarium closed Christmas Day, New Year's Day, Thanksgiving, Easter, and July 4.