WANT TO KNOW
WHAT'S HAPPENING IN NEW LONDON CT?
Visit Our Friends at:




True Colors Annual Conference XIX
Celebrating Our Allies
Friday, March 16 & Saturday, March 17, 2012

North East Digital Village
Community Events 2011
Hi! We hope you find our events listing helpful. We update a few times a week. We can't guarantee all the dates/times etc, but try to provide you with contact info so you can check. You'll find what's happenning today and the rest of the month here and events that began before today, but are still going on here.
THIS IS A FREE SERVICE. HELP US KEEP IT GOING! Please take a look at the Google Ads & click through whenever something interests you. Thanks.
---
---
FEATURED EVENT
Summer 2012
Thoroughly Modern Millie
Madhatters Theatre Company is registering students for Summer 2012 productions. August 6th thru 10th at Chester Meeting House 4 Liberty St in Chester: 'Thoroughly Modern Millie'. August 13th thru 17th at Lymes Youth Service Bureau 59 Lyme St in Old Lyme: 'Little Monsters inc'. Further information available at ctkidsonstage.com/madhatterstheatrecompany or call (860) 395-1861
---
---
MAY 2012
Friday, May 11 & Friday, May 18, 2012 at 7 PM
Saturday, May 12 & Saturday, May 19, 2012 at 10 AM
Saturday, May 12 Sunday, May 13, Saturday, May 19, & Sunday, May 20, 2012 at 2 PM
Peter Pan
Hartford Children's Theatre, The Wadsworth Atheneum, 600 Main Street, Hartford, CT

Musical Fantasy, Rated G. Peter Pan, the classic story of the boy who would not grow up, is one of the world's most celebrated musicals. This timeless high-flying masterpiece, complete with the evil Captain Hook, a crafty crocodile and the enchantment of Never Never Land will touch, inspire and dazzle every generation. Lyrics by Carolyn Leigh, Betty Comden and Adolph Green. Music by Mark Charlap and Jule Styne. Based on the book by James M. Barrie. Run Time: 2 hours
Ticket Prices: Adults $22. Seniors & Children 17 and under $17. $10 for all currently enrolled HCT students or HCT teachers. Please note: A processing fee of $2.50 per ticket will be added to all web and phone orders. Purchase your tickets online at hartfordchildrenstheatre.org or by calling our Box Office at 860.249.7970.
---
Sunday, May 13, 2012, 4 PM
Janus Trio
The Katharine Hepburn Cultural Arts Center, (The Kate), Old Saybrook, CT.
A lovely afternoon of chamber music awaits you! Janus will perform Debussy's classic Sonata for Flute, Viola and Harp as well as new Argentinian music and music fresh out of New York. Fun stuff! Why not make a day of it and treat yourself or your mom to lunch or dinner in Old Saybrook! JANUS TRIO is Amanda Baker/Flute, Beth Meyers/Viola, Nuiko Wadden/Harp. For Tickets Visit: Katharinehepburntheater.org or call the Box Office at 877-503-1286. For more information on Janus Trio, visit: janustrio.org.
---
Monday, May 14, 2012, 6:30 PM-7:30 PM
"Number the Stars" Book Discussion
Otis Library, Main Street, Norwich CT
In conjunction with the Spirit of Broadway's May 2-June 3 production of "Number the Stars", the Otis Library will be hosting a book discussion. We welcome children (grades 5 and up), teens, and adults for this community discussion. This is a drop-in program, no pre-registration necessary. Refreshments will be served. Copies of the book are available at the Children's Dept.
---
May 18, 19, June 1, 2, 3 (matinee), 7, 8, 9, 2011
Doors open 7:30 PM or 1:30 PM (Matinee). Show 8 PM or 2 PM
Blithe Spirit
Windham Theatre Guild, Burton Leavitt Theatre, 779 Main Street, Willimantic, CT
Noel Coward's high-class, smash comedy hit of the London and Broadway stages follows socialite novelist Charles Condomine and his paranormal predicament: He's being haunted by the ghost of his first wife Elvira, and his new wife is not amused! Wacky psychics, wounded wives, and sparkling dialogue abound in this wonderful evening of classic comedy. The great Noel Coward considered Blithe Spirit to be his finest work. It is supernatural British wit at its best!
---
Saturday, May 19, 2012, 10 AM-4 PM
Springtime in New England
The Hamden Arts Commission is launching a series of elegant and entertaining bus tours with "Springtime in New England: A Taste of Connecticut" on Saturday, May 19. The one-day trip will include a behind-the-scenes tour of the Goodspeed Opera House (currently featuring "Mame" on stage); lunch along the Connecticut shore; and a private Thimble Island cruise. It also includes a morning stop at an Irish pub for a "wee" Irish coffee to start the day, and en route morning and afternoon snacks. Participants will be escorted by a masterful, engaging tour guide, Ken Sause, CTC, of "Adventures by Travelken." The bus - a luxury coach with toilets - departs from the North Haven commuter lot (Devine St: Exit 10 off I-91) at 8 am and returns at 6:30 pm. The cost for this trip is $139, which includes all fees and gratuities and a small donation to the Hamden Arts Commission. ($25 of this is a non-refundable deposit.) Checks should be made out to Adventures by Travelken, c/o Hamden Arts Commission, 2901 Dixwell Ave., Hamden, CT 06518. For information, please contact the Arts Commission at (203) 287-2546 or mcoleman@hamden.com.
---
Saturday May 19, 2012, 8 PM
Joel Cage
The Vanilla Bean Cafe, 450 Deerfield Road, Pomfret, CT
$12.
---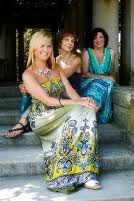 Sunday, May 20, 2012, 2 PM
Celticity Trio
First Congregational Church, Madison, Connecticut
Celticity combines cutting-edge artistry, passion, and a contemporary touch to traditional Celtic music. With a unique blend of instrumental sizzle, vocal beauty, and captivating arrangements, Celticity puts forth an immensely exciting and highly musical performance. Celticity is Sylvie Harris on guitar; Megan Sweeney on flute and piccolo; and Phred Mileski, voice, psaltery, the Bodhran drum, and accordion.




---
Sunday May 20, 2012, 7 PM
Ellis Paul
The Vanilla Bean Cafe, 450 Deerfield Road, Pomfret, CT
$15.
---
Sunday, May 20, 2012, 7 PM-9 PM
Dancing to Simply Swing
Whinstone Tavern, 245 Hartford Road, New Britain CT
10-piece swing orchestra featuring vocalist Vivian LaRosa performing danceable favorites from the Big Band and Swing Dance eras. No cover; Swing and Ballroom Dancers welcome. Call (860) 827-0022 for reservations. See simplyswingmusic.com for more information.
---
Saturday May 26, 2012, 8 PM
Gypsy Romantique
The Vanilla Bean Cafe, 450 Deerfield Road, Pomfret, CT
With Daisy Castro. $10.
---
Ongoing Events
Ongoing through April
NAC at La Grua: an exhibit of NAC Co-op Artists
La Grua Center, 7 Stonington Commons at 32 Water Street, Stonington, CT
The Norwich Arts Center is pleased to announce that the artists from the NAC Artists' Cooperative have been invited to exhibit at the La Grua Center in the Stonington Commons.
---
Ongoing through May 6, 2012
Sunday matineest 2 PM. Wednesday & Thursday evenings 7:30 PM. Friday & Saturday evenings 8 PM.
The Graduate
Ivoryton Playhouse, 103 Main Street, Ivoryton, Connecticut
Prices:$40 adults/ $35 seniors/ $20 students/$15 children. Tickets: 860-767-7318 or on-line at ivorytonplayhouse.org.
---
Ongoing Thursdays, 6 PM-7:15 PM
Meditations For A Clear Mind
Odiyana Meditation Center, 297 Oakland Rd, South Windsor, CT
Weekly Meditation Classes for Everyone! Classes include guided meditations, practical advice and time for discussion and questions. Suitable for beginners and experienced meditators alike. Everyone is welcome! $10 per class. No one turned away for lack of funds. Visit us at meditationinconnecticut.orgor contact us at 860-268-7251 or info at odiyana.org.
When our mind is clear, calm and energized, everything in our life seems to be smooth and effortless. If we take control of our mind, we can experience this clarity more and more often in our daily life. Through the practice of meditation, we can get to know our mind and its habits and learn to avoid negative states of mind, while cultivating those minds that lead to happiness. In this class, we will learn and practice meditation techniques and listen to helpful advice to maintain a positive mind in our daily life.
---
Is Your Event Missing?
Drop us a line at PLEASE ADD MY EVENT!.
Please include as much info as you can, including links. We'll drop you a line back when we've added your event or if we have any questions. (We do, of course, reserve the right to not include any event that advocates or supports in any way violence, explicit materials or subjects, or hate stuff or is just plain nasty.)