True Colors Annual Conference XIX
Celebrating Our Allies
Friday, March 16 & Saturday, March 17, 2012
North East Digital Village
Why Not Peace?
We don't ask that you agree, just that you take a look and take from our site what is useful to you. Beyond all, we support your right not to be just like us; not to think just like us. We ask the same from you.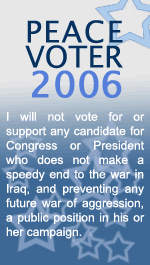 Become a Peace Voter Today
"As the war becomes more deadly, costly and counter-productive each day, a growing majority of citizens want to see a change of course in Iraq and U.S. foreign policies that better reflect American values. With mid-term elections approaching the occupation of Iraq and other key foreign policy issues are certain to be at the forefront of the electoral debate.
We must demand our elected officials put their commitment to a more responsible foreign policy for our country on the record. We'll do this by making peace the top priority in 2006.
This November, let's hold Congress accountable to the rising tide of public opinion that's urging an end to the war in Iraq and a new direction for U.S. relations with the world." thepetitionsite.com
On Nonviolence "We maintain that you cannot really be effective in anything you are doing if you are so loaded with violence that you cannot think rationally about what you have to do. We know that violence works. I'm not going to say it doesn't work. Total violence still works and is working many places. I disagree that it has long-lasting good results. I disagree with that. But violence works only when it's total violence, and non-violence works only when it's total non-violence. And you can't have anything in between."
~ Cesar Chavez: In His Own Words, The Fight in the Fields, Cesar Chavez and the Farmer Workers Struggle
http://www.pbs.org/itvs/fightfields/cesarchavez4.html
About Peace
Seekers of peace may want to explore the following links and articles:
Department of Peace Resolutions and Platform Planks
Eleven states have passed resolutions or platform planks within their state Democratic Parties in support of the creation of a Department of Peace: Wisconsin, Alaska, Colorado, Hawaii, Iowa, Michigan, Minnesota, Ohio, Oregon, Texas and Washington. Each of these states has affirmed the value of creating a cabinet-level agency to work for peace and non-violence domestically and internationally.
A Department Of Peace?
by Walter Cronkite, King Features Syndicate, Web posted Thursday, August 12, 2004
With this nation embroiled in what threatens to be an interminable "War on Terrorism," an idea put forward last year by Ohio Congressman Dennis Kucinich has, for me, considerable appeal. Kucinich, who was the one candidate in the Democratic primaries to unfailingly promote the party's traditional Franklin Roosevelt liberalism, proposed the establishment of a Department of Peace.
Now he has introduced in the House HR 2459, a bill that would establish a Peace Department, adding a new cabinet post to the executive branch of government. The Department of Peace would "advise the Secretary of Defense and the Secretary of State on all matters relating to national security, including the protection of human rights and the prevention of, amelioration of, and de-escalation of unarmed and armed international conflict." [read the rest of Mr. Cronkite's editorial]
Curriculum for Peacemaking: Na'aseh Shalom: Let us make peace. Intro, notes, & resources (In Response to the Nuclear Threat)
A comprehensive curriculum about the pursuit of Shalom in the nuclear age. This compendium offers a model and means by which teachers and principals can design and conduct specific classroom learning for either one lesson that is discreet or is integrated into another Jewish subject, or for an extended study unit. Na'aseh Shalom/Let Us Make Peace is a teaching aid which can be followed precisely or lightly, depending on the particular educator's inclination or need. [Node 2] Lyn Fine, Originally Published by the Coalition for the Advancement of Jewish Education and The Shalom Center

Every day we do things, we are things that have to do with peace. If we are aware of our life . . . our way of looking at things, we will know how to make peace right in the moment, we are alive.
Thich Nhat Hanh
Declaration of Interdependence and Independence by Rabbi Arthur Waskow, 07/28/2004, The Shalom Center, 6711 Lincoln Drive, Philadelphia, PA 19119, USA / tel: (215) 844-8494. Excerpt below:
"When in the course of human events it becomes necessary for the peoples of the earth - to declare our interdependence with each other and with all the life-forms of the planet, and our independence from efforts by the most powerful and most reckless among the national governments to create a new and global Empire;

Then a decent respect to the opinions of Humanity requires that we declare the causes that impel us to rise beyond the present Powers of the earth and to embody our planetary community in new social, political, and economic forms.

We hold these truths to be self-evident: That all human beings are born with equal dignity and worth, endowed by their Creator with certain unalienable rights: to life, liberty, and the pursuit of happiness; to the sharing of community; to a rhythm of worthy work and shared rest that frees time for family, neighborhood, citizenly service, and spiritual reflection; to a life-sustaining share of the earths abundance; to peace among all peoples; and to a responsible relationship amidst the whole web of life upon this planet. ~ Rabbi Arthur Waskow