North East Digital Village

Volunteering in Connecticut
BIG BROTHERS BIG SISTERS, SOUTHEASTERN CT
Big Brothers Big Sisters of Southeastern CT, 1595 Hartford Turnpike, Route 85, Oakdale, CT 06370, 860-437-3227, Email: office at bbbssect.org.
Be a dependable friend to your Little Brother/Little Sister. Introduce them to new worlds and a little magic! Plan on a weekly or bi-weekly visit with your Little Brother/Little Sister. Visits continue for at least one year. Hours are flexible: weekends, evenings, whatever is mutually convenient for you and your Little Brother/Little Sister. Be a friend, call 860-437-3227 for your application today.
Not interested in being a Big but still want to help? There are many ways you contribute. We are always looking for fun activities to offer our Bigs and Littles. You can help. Donate supplies for interactive activities, give time to help plan and facilitate outings, donate tickets to special events throughout the community. Support our fund-raising events.
cite: bbbssect.org
BOZRAH CT VOLUNTEER FIRE CO., INC.
239 Fitchville Road, P. O. Box 2, Bozrah, CT 06334, (860) 887-9474. Firefighters, EMT's, fire police and cadets (13 - 17 yr old) needed
Help make a difference in our community. All training and equipment provided including state of CT class. Contact the firehouse or Chief Potter at 860-886-0822.
cite: bozrahfire.org
CENTRO DE LA COMUNIDAD, INC.
109 Blinman Street, New London, CT 06320
860 442-4463, info@centrocomunidad.org
Non-profit community-based agency serving individuals and families in New London County, promoting the successful involvement of Latinos in the community.
Interest Area: Advocacy & Human Rights, Crisis Support, Education & Literacy, Homeless & Housing, Immigrants & Refugees.
Centro de la Comunidad es una agencia sin fines de lucro cuya misión es la de: desarrollar la habilidad de los Hispanos y cultivar la participación activa de todos los miembros en nuestra comunidad multicultural.
cite: centrocomunidad.org
CONNECTICUT RADIO INFORMATION SYSTEM (CRIS)
315 Windsor Avenue, Windsor, CT 06095, 860-527-8000, E-mail: info@crisradio.org
Readers Needed: Read at the Disabilities Network of Eastern Connecticut, 238 West Town Street, Norwich, CT. 860-204-0165. Read state and local articles from area newspapers as well as local food and department store ads. Applicants should be able to read aloud fluently and be willing to learn the basic operation of the studio radio console. About two hours a week required. Morning & evening hours available. CRIS has studios in Danbury, Trumbull, Norwich and West Haven. If interested, please contact 860-527-8000
cite: crisradio.org
CONNECTICUT TRANSADVOCACY COALITION
CTAC, PO Box 330304, West Hartford, CT 06133-0304, (860) 983-8139, info@transadvocacy.com
CTAC depends entirely on volunteers to assure its work is a truly grassroots and communmity effort. CTAC is looking for people with skills and/or interests in outreach, technical skills, writing, legal, medical and organizing. Please contact CTAC by phone at 860-983-8139 or via email at info@transadvocacy.com if you would like to get involved in a specific program, event or task or just to discuss volunteering in general.
cite: transadvocacy.com
CONNECTICUT WOMEN'S EDUCATION AND LEGAL FUND
CWEALF, 146 Wyllys Street, Hartford, CT 06105-3701, 860.247.6090, cwealf@cwealf.org
Mailing Address: 75 Charter Oak Avenue, Suite 1-300, Hartford, CT 06106
Office Hours: Monday-Friday 9AM-5PM
Information & Referral Service:
Call 860.524.0601 or Toll Free: 800.479.2949 Mon, Wed, Thurs & Fri: 9 AM-1 PM, Tues 11 AM-3 PM
Volunteer to help CWEALF make a difference!
CWEALF is a statewide non-profit organization dedicated to empowering women, girls and their families to achieve equal opportunities in their personal and professional lives.
cite: cwealf.org
Information & Referral (I&R), utilizes volunteers interested in more "hands-on" work with the community. Volunteers help answer the I&R line providing callers with legal information and support, and respond to questions we receive through their web site. Volunteers receive in-depth training and are asked to commit to at least six months of service.
Depending on your interests and skills and the projects available at CWEALF, there are opportunities to help with office and administrative duties, fundraising, community outreach and much more.
Download the COMPLETE VOLUNTEER INFORMATION FORM HERE and return it via fax at: 860.524.0804 or mail to: CWEALF, 135 Broad Street, Hartford, CT 06105.
COVENANT SHELTER OF NEW LONDON
42 Jay Street, P.O. Box 1653, New London, CT 06320
Contact: (860) 443-0537, (860) 443-2184, covenantshelter@snet.net
Provides temporary housing, three meals a day, case management and other support services to homeless individuals and single-parent families. Volunteers assist in the maintenance of the shelter, provide tutorial services to residents and become involved in the mentor program for children in grades 1-9.
CUSTOM HOUSE MARITIME MUSEUM
Custom House Maritime Museum, 150 Bank Street, New London, CT, 860-447-2501
Custom House Maritime Museum volunteers have the unique opportunity to enlighten and inspire the public through stories about the many accomplishments of our maritime forebears. Volunteers support the museum by assisting with tours, educational programs, special events, the museum store, and other activities that serve the public. Volunteering is open to adults, seniors, high school and college students. Interested individuals should enjoy history, be outgoing and friendly, and enjoy working with children and adults in a fun, interactive style. Volunteers must be reliable, work well in a team setting, and be self-motivated. f you are interested in becoming a volunteer, please send a letter of interest to Susan Tamulevich, museum director, at nlmaritimedirector@gmail.com.
DROP-IN-LEARNING CENTER
45 Broad Street, Annex, New London, CT 06320 Contact: (860) 442-4466, dilcenter@hotmail.com
The center provides a range of educational and recreational services to school age children and youth.
Volunteers assist in teaching the after school program, tutor, lead field trips and complete art projects.
FOSTER GRANDPARENT PROGRAM (FGP)
Uncas-on-Thames, 401 West Thames Street, Unit 201, Norwich, CT 06360-7155, 860/889-1365 EXT 6526, 6547, Director: Aimee Babbidge
Volunteers can participate in either of the following programs: Foster Grandparent Program, Prevention and Intervention or Families in Training.
LEARN MORE HERE
cite: tvcca.org
GIRL SCOUTS OF CONNECTICUT
4 Industrial Park Road, North Windham, CT 06256
Contact 860-423-5502 or membership@gsofct.org
If you're an adult age 18 or older you can be a volunteer. They are seeking volunteers who represent the community's diversity - women, men, young adults, older girls, and people of all racial and ethnic backgrounds. Volunteers can lead a Troop, develop and participate in training activities, maintain camps, manage data, design marketing pieces, and/or share their skills with girls in everything from running a business to exploring science careers. For additional information, please refer to the Girl Scouts of CT website or contact them at membership@gsofct.org.
cite: gsofct.org
Habitat for Humanity
HABITAT FOR HUMANITY OF SOUTHEASTERN CONNECTICUT
377 Broad Street, New London, CT 06320
(860) 442-7890, hfhsect@habitatsect.org
local unit of Habitat for Humanity International, a nonprofit interdenominational Christian housing organization. HFHSECT exists for the sole purpose of providing simple, decent, affordable homes in partnership with low-income families in need throughout New London County. Office Hours: Monday-Friday, 8:30AM to 4:30PM
cite: habitatsect.org
WINDHAM AREA HABITAT FOR HUMANITY
P. O. Box 214, Willimantic, CT 06226, 860-423-7142
Serving Andover, Ashford, Chaplin, Columbia, Coventry, Hampton, Hebron, Lebanon, Mansfield, Scotland, Willington and Windham
Habitat for Humanity works in partnership with people in need to build and renovate decent, affordable housing. The houses then are sold to those in need at no profit and with no interest charged.
cite: habitatsect.org
HABITAT FOR HUMANITY OF NORTHEAST CONNECTICUT
Post Office Box 58 Danielson CT 06239-0058
(860) 774-0505 info@habitatnortheastct.org
Serving a ten-town area that includes Brooklyn, Canterbury, Eastford, Killingly, Plainfield, Pomfret, Putnam, Sterling, Thompson, and Woodstock.
cite: habitatnortheastct.org
---
HAITIAN HEALTH FOUNDATION - A CHARITABLE OUTREACH TO NEIGHBORS IN NEED
97 Sherman Street, Norwich, CT 06360
Contact 860-886-4357 or HHF@Haitianhealthfoundation.org.
In Haiti: Klinik Pep Bondye-a, 10 Rue Rochasse, Jeremie, Haiti, West Indies, Phone: 011-509-284-5216.
A volunteer effort of health professionals begun in 1982 has grown into an outpatient health care facility supported by a nondenominational foundation. Volunteers donate their time and talents to supplement our staff in Haiti. Volunteers travel to Jeremie from America, Canada and Europe at their own expense, to share their skills and resources with the poor. The third floor of the clinic is a volunteer residence capable of housing visiting volunteers. There is a three-bedroom hospitality house for use by long-term volunteers serving at the clinic. Visiting volunteer physicians, dentists, nurse practitioners offer specialized treatment to patients. These health professionals bring with them the latest procedures and technology. In addition, we are seeking volunteer electricians, plumbers, diesel mechanics, and general "handy" people for maintenance of our facilities.
cite: haitianhealthfoundation.org
HOSPICE of SOUTHEASTERN CT
The Hospice Southeastern Connecticut volunteer training program explores: issues surrounding death and dying, family dynamics, psychosocial issues, communications, physical aspects of illness, spiritual aspects of death & dying.
All prospective Hospice Volunteers are expected to attend an initial Orientation meeting. If you are interested in becoming a volunteer for Hospice Southeastern Connecticut, download the volunteer interest survey form here (pdf) or contact the volunteer office at 860-848-5699.
cite: hospicesect.org
LITERACY VOLUNTEERS OF EASTERN CONNECTICUT
Norwich Office is located at the Otis Library, Main Street, Norwich.
Contact: info@englishhelp.org No special qualifications (besides our free trainings) are required to become a Literacy Volunteer. You don't have to speak another language! Your fluency in English is all that is needed.
cite: englishhelp.org
LYME & OLD LYME VOLUNTEERS NEEDED
Joint project of towns, agencies and schools produced a comprehansive listing of services and volunteering. Look for the "Volunteering Opportunities Available" listed under each organization.
cite: region18.org
LONG TERM CARE OMBUDSMAN PROGRAM (Statewide)
Central Office, 25 Sigourney St., Hartford, CT 06106, E-mail: LTCOP@po.state.ct.us, Toll Free In state 1-866-388-1888
Advocate for nursing home residents in your area. Volunteers help nursing home residents by guiding them in problem-solving process. Training provided. Call 860-823-3366 or TOLL FREE at 866-388-1888.
cite: ltcop.state.ct.us
Regional Ombudsman Contact Information
Region I/Southwest, 1057 Broad St., Bridgeport, CT 06604, (203)551-5530
Region II/Southcentral, 414 Chapel St., Suite 301 New Haven, CT 06511, (203)974-3030
Region III/Eastern Regional Office, Long Term Care Ombudsman Program, 4 Broadway, 3rd Floor, Norwich, CT 06360, (860)823-3366.
Region IV/Northcentral, 3580 Main Street, Hartford, CT 06120, (860)723-1390
Region V/Northwest, 249 Thomaston Avenue, Waterbury, CT 06702, (203)597-4181
Region VI/Central-SubOffice, Cristina MacGillis 270 Lafayette Street, New Britain, CT 06053, (860)612-3573
LOVE MAKES A FAMILY, HARTFORD CT
LMFCT, 32 Grand Street, Hartford, CT 06106, 860-525-7777, info@lmfct.org
Recruitment Team: ask folks to sign the marriage equality pledge across Connecticut at festivals, concerts, bars, parades, etc. Opportunity to identify and to educate new marriage supporters!
Equality Rings Phone Banks: Urge fellow Love Makes a Family members to action!
Legislator House Meetings: Organize your neighborhood to talk to your legislator at your home about marriage, equality, and fairness.
Media Response Team: Write letters to the editor in response to Love Makes a Family alerts. LMFCT responds to negative press on marriage equality for same-sex couples.
Speakers Bureau: Sign up to speak at schools, other organizations, and places of worship.
ACCESS THE VOLUNTEER FORM HERE
cite: lmfct.org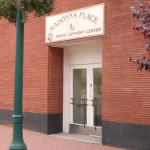 MADONNA PLACE
240 Main Street, Norwich, Connecticut
Contact: (860) 886-6600, Email: madonnaplace at snet.net
Madonna Place provides services to strengthen families and help to prevent child abuse and neglect. We are pleased to be able to offer a variety of volunteer opportunities. Do you have hobby you would like to share or teach? Do you have expertise in writing resumes? Are you good with a paintbrush or light carpentry skills? Another great volunteer opportunity is with The Nurturing Connections Program that connects volunteers with first time mothers through weekly telephone calls. The volunteers are able to support moms in their new role by providing developmental and safety information about the babies as well as emotional support to new mothers. Call 860-886-6600 for current volunteer needs.
cite: madonnaplace.org
MEALS ON WHEELS
Invest a Good Hour of your time! - That's all we ask . . . VOLUNTEERS NEEDED. Call today for more information: 860-889-5241 or 800-953-1365 or email exec@tvcca.org
cite: tvcca.org
MOTHERS AGAINST DRUNK DRIVING (MADD)
565 Washington Avenue, North Haven, CT 06473
203-234-6521, Maddconn@sbcglobal.net
Stop drunk driving, support the victims of this violent crime, and prevent underage drinking.
MADD volunteers work all over Connecticut. Volunteers can choose to come to any of our offices, work where needed in their county, or remain in an area near their homes. As a MADD volunteer, your time commitment is up to you.
cite: madd.org
NARAL PRO-CHOICE CONNECTICUT
135 Broad Street, Hartford, CT 06105
(860) 524-1086, info@pro-choicect.org
We need volunteers for every aspect of the work we do!
Be an E-Mail Activist. Work in our office. Outreach and Education. Help with phonebanks or flyering. Support a letter writing campaign. Help organize an event. Work at events. Volunteer telephone membership appeals. Hosting fundraising events in home or at civic organization. Acquire donated items for auction or tag sale. Request and/or collect items from individuals/businesses for auction. Acquire donated office equipment and more.
cite: ctnaral.org
PAWCATUCK NEIGHBORHOOD CENTER
Serving the Communities of Stonington, North Stonington, Mystic, Old Mystic, Pawcatuck & Westerly, RI
27 Chase Street, Pawcatuck, CT 06379
Food Shortage: PNC's Hunger Task Force addresses the food shortage that has affected so many charitable organizations. Many activities and drives are planned throughout the season. To donate non-perishable food to PNC today, call 860-599-3285 or email the PNC at info@the-pnc.org
cite: the-pnc.org
PERCEPTION PROGRAMS
Volunteers needed at Omega House, a non-profit supportive living residence for people with HIV/AIDS.
Duties include answering phones, providing transportation, cooking, yard work, painting, house cleaning, and being a positive influence. Call Linda at 860-450-7248.
Volunteers also needed for light clerical duties at Perception Programs.
PIERCE MEMORIAL BAPTIST HOME
PO Box 326, Brooklyn, CT 06234, (860) 774-9050, info@PierceCare.org
Our residents enjoy quality interactions with genuine individuals, learning and staying involved with the community. Music, crafts, baking, games and exploring current events are some other popular activities. New ideas and energy are welcome. Volunteers are provided with the training necessary to most effectively serve our residents. Choose from a wide variety of volunteer activities.
To volunteer at Pierce contact the Director of Volunteers at (860) 774-9050 or via email at Volunteer@PierceCare.org
cite: piercecare.org
RELIANCE HOUSE, INC
Reliance House, Inc., 40 Broadway, Norwich, CT 06360, (860) 887-6536
Volunteers of Interns Needed for Peer Mentor Positions
Support young adults with mental illness or substance abuse problems. Duties include skills teaching and emotional support, recreational opportunities and transportation as needed. Days & hours vary. For more information or to apply, contact Reliance House, 40 Broadway, Norwich CT 06360 at 860-887-6536.
cite: reliancehouse.org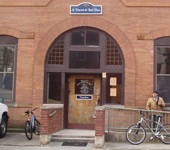 ST. VINCENT DE PAUL PLACE
St. Vincent de Paul, 10 Railroad Place, Norwich, CT 06360
(860) 889-7374, info@svdpp.org
Soup kitchen and food pantry serving the homeless and working poor in the local community. Located in the old train station in downtown Norwich, CT, St. Vincent de Paul Place is a community meal site and food pantry that strives to meet the needs of homeless people and families with limited income in the greater Norwich area. The food pantry provides food to over 320 families and 900 individuals every month. Everyone is allowed to come once a week. 50% come only once a month for an average of 1,900 total served monthly. Of this nineteen hundred approximately 780 are children. We offer ten meals for each member of the family. We serve both homeless people and families whose paychecks do not stretch to the end of the month.
cite: svdpp.org
THAMES RIVER MENTORING PROGRAM
Thames River Mentoring Program, 1 Thames River Place, Norwich CT
Contact: (860) 887-3288
Need Volunteer Mentors> Volunteer to be matched with welfare recipients who are transitioning to employment. Guide, role model and support clients as they work to overcome obstacles to employment.
If interested, please call, 860-887-8180 or (860) 887-3288
YOUNG PARENTS PROGRAM
Norwich CT Youth & Family Services
Seeking individuals & organizations willing to adopt one or more of our families for our Adopt-a-Family Holiday program. For information, Call Lisa 860-823-3782
cite: norwichct.org
WINDHAM AREA INTERFAITH MINISTRY
866 Main Street, PO Box 221, Willimantic CT 06226, 860-456-7270
WAIM is in need of good volunteers to assist with check-in Tuesday, Thursday or Friday. Take leadership in the clothes sorting area. Become a Volunteer Coordinator help us recruit, train and help volunteers. Assist on the Loading Dock with pick-ups and deliveries of donations. Bilingual volunteers needed. Volunteers with Office Procedure and computer skills. Youth Volunteers encouraged.
Contact: Evelyn Solla, Assistant Director, 860-456-7270 ext.12
cite: waimct.org
WOMENS CENTER OF NORTHEASTERN CT
Main Office: 90 South Park St., P.O. Box 24, Willimantic, CT 06226, 860.456.3595 or 860.423.7673
Email the Women's Center: weconect@snet.net
Statewide Toll Free: 888.456.2789, Statewide Spanish Toll Free: 888.568.8332
The Women's Center offers these Opportunities for Volunteers:
Thirty-hour training program that leads to certification as a sexual assault crisis counselor
Up to 20 hours per week internships providing workplace training
For information about upcoming training, please contact Rhonda at 860-456-3595
cite: bronzefrogs.com/center/