North East Digital Village
October is Polish Heritage Month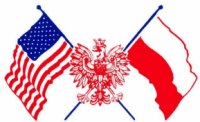 Let's all join Polish American organizations, schools, churches, libraries, and cultural groups throughout the United States in celebrating Polish American Heritage Month.
"Throughout the 1970's and 1980's Poles stood alone in their struggle for freedom against communist tyranny; they became the beacon of hope for all other Eastern bloc countries and proved it was possible for small countries to receive their national identity and break away from the USSR. The contributions which Poles have made to science, technology, music, art and literature are outstanding."
Excerpt from the Polish American Journal-October, 2002
This celebration was begun in 1981 and has grown into a national celebration. October was chosen as the month to celebrate, in part, because in is the month General Casimir Pulaski died. A proud, perseverance people, the Poles have a history of struggle and success against adversity, fierce love of their independence throughout a history of invasions as kings and conquers swept back and forth across Europe - through strategically located Poland. Surviving these invasions, the Holocaust and their own individualism, Poles came together be a strong force in the emergence of Eastern Europe from domination by the former USSR. A friend to the new Americans in the Revolution, Poles later migrated to this country by the thousands. Want to learn more about Polish Heritage, and Polish folks who have made important contributions? See our links below.
Poles in America / Polish-Americans
Poland - History, Land, People and Rebirth
Poles & the Holocaust
Kids - it is very important to know about what happened during the Holocaust - and you will find many stories of bravery, sacrifice and heroism through the links below. But, learning about the Holocaust is never an easy journey. Remember that it's okay - even a good thing - to talk with your parents, grandparents, and teachers about the information you find, the things that happened and your questions and feelings about what you learn.

- JT
Get Up & Polka!
Polka Radio Stations
Streaming 24/7 Polka Music! The First and Original 24-Hour Webcasting Polka Music Internet Site in the World!
247polkaheaven.com
The future of polka music will only survive with change! Check out a radio show that has crossed the line with big success! This show attracts all ages! It is a show of the past and the future, appealing to all ages. Tune in Saturday mornings over WWUH.ORG
wwuh.org
Welcome to Mikes Polka Party. Listen to Polka Mike play all your favorite hits live on WECZ AM 1540 "The Groundhog" in Punxsutawnney, PA every Sunday from 11am to 5pm.
mikespolkaparty.com
Polka Jammer Network: A non-profit website dedicated to the preservation and promotion of Polka music.
polkajammernetwork.org